Are you in the process of developing a new website or simply need to do some maintenance on currently existing pages? If that is the case, then it is high time that you acquire a WP plugin to complete the task, as doing so will significantly improve your website and give the impression that it is professional even before it goes live.
On the other hand, a coming soon website can keep your audience informed about significant announcements or new goods that are about to be released. Both are important in their own right.
You don't need to do anything out of the ordinary in order to develop a page that says "coming soon." Installing a straightforward plugin is now the only thing left to do if you're working with WordPress.

Maintenance Mode VS. Coming Soon
A coming soon page often referred to as an under-construction page, is a page that you can add to your WordPress website to inform visitors about upcoming changes or updates while you continue to work on the site behind the scenes. The vast majority of coming soon pages built with WordPress include a number of features that will be of use to you in marketing your website before it officially launches.
Visitors to your website will see a "maintenance mode" page whenever they try to access it while you make even minor changes. Website maintenance mode, also known as wp maintenance mode, notifies search engines that your website is now unavailable for maintenance by sending them a header code (503). This ensures that your website's reputation is not damaged as a result of the maintenance outage.
You will be able to generate any of these pages for your website with the assistance of the Coming Soon and Maintenance Mode plugin. Because it has a visual builder that works with drag-and-drop, even people who aren't designers won't have any trouble using it. You can get a Website up and running in a matter of minutes, even if you have no prior knowledge of website development.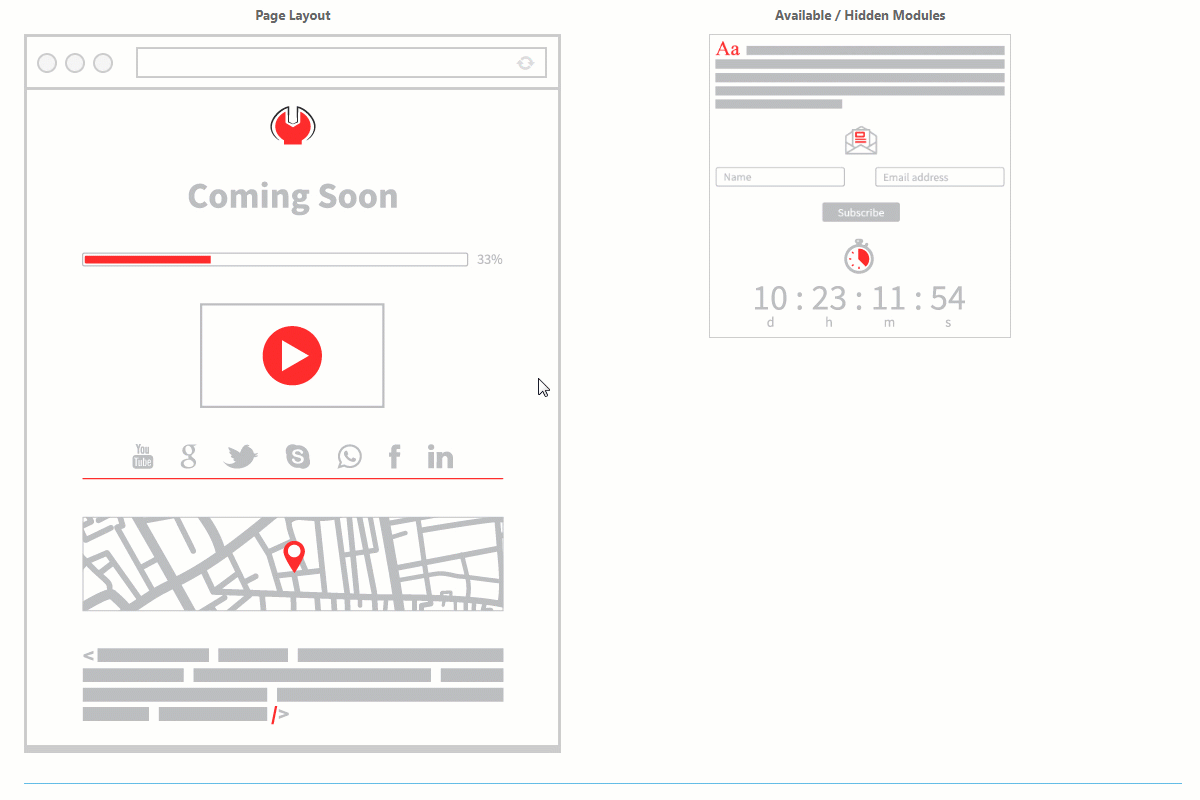 The plugin has a user interface that is quite easy to understand, and the pages that can be produced using it can be fully customized. Additionally, Coming Soon percent Maintenance Mode has all of the additional bells and whistles for search engine optimization (SEO), email gathering, and other features.
Themes
Plugins like Coming Soon & Maintenance Mode feature a good number of themes or templates that can be customized to create new pages, but this one comes with more than 170 pre-made designs that may be used in any business. Choosing the correct theme for your website's branding will be easy, thanks to these attractive designs.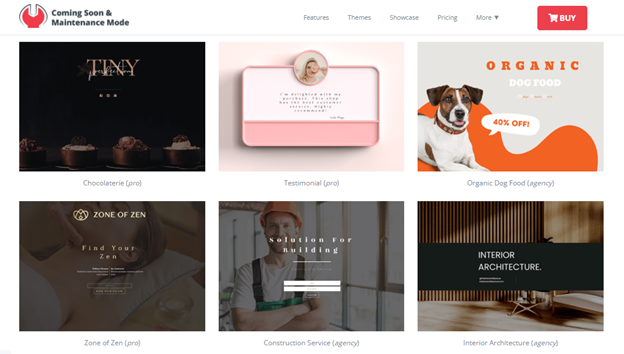 It's as simple as browsing through the available themes and selecting the one that best suits your needs. In order to ensure that nothing gets stale or boring, new themes are introduced to the enormous theme library every month.
Images
Isn't it true that a picture is worth a thousand words? Yes, yes, it is, and when it comes to web design, the choice of a backdrop photo can easily shatter the overall design. When you use this plugin, you'll have access to more than 2 million high-quality photographs that are completely free.
All of the photographs are of a very high standard, and the page editor allows users to search for and browse through them with ease.
The purpose of Coming Soon and Maintenance Mode is to give you full control over your website's content. In addition to providing a large number of images that you are free to use, you will be pleased to learn that any and all of the images that can be found on the website can be altered to correspond with the overall design.
Because of this, it features effects that are reminiscent of Instagram so that you may edit the photographs and make them stand out. It comes with 26 filters that can radically transform an image in a matter of seconds and look great in their own right.
If that doesn't suit you, you can always look for image editor free online.
Built-in search engine optimization (SEO)
You may also improve your website's search engine rankings with the assistance of this Coming Soon and Maintenance Mode plugin. You need to give some thought to how you can achieve a high ranking in the search engines before you even begin the process of launching your website.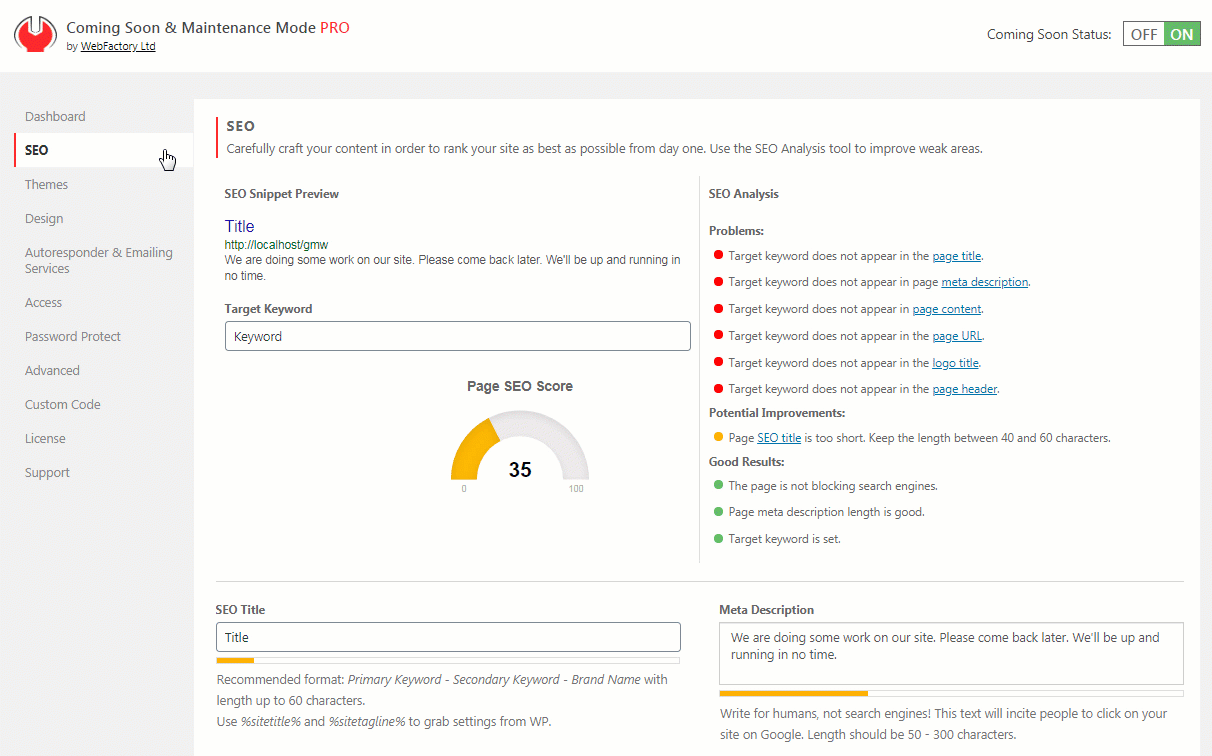 In such a case, the Coming Soon & Maintenance Mode plugin might be of great service. Your website's anticipated search engine optimization score will be displayed to you by the plugin once it has evaluated a number of different parameters.
Links with Extraordinary Accuracy
Your website or blog needs to be up and operating even before it goes live, as millions of new ones are launched monthly. This is especially helpful if you need to show your boss or a specific group of clients how far along you are regularly how far along you are.
Do I understand this correctly? There are a number of ways to go about this. Allowing users who have already logged in to view your progress, for example, or adding critical IP addresses on a whitelist, will allow them to access the unfinished site. In the latter case, be aware that IP addresses are subject to change.
Collection of Emails
We've already mentioned that this plugin has a subscription form that may be used to collect email addresses. More to it than that, though.
Your autoresponder and other marketing tools will be linked to your CRMs and webinars via the plugin, which is funded by the subscriptions you make. When a subscriber successfully or incorrectly fills out the subscription form, you can alter the message they receive.

Pricing
Now that we've given you a lot of information about this plugin and its many interesting capabilities, you're probably thinking, "How much would it cost for me to use this?" This is a natural question for readers to ask themselves after reading a review of nearly anything.
Still, there's no need to worry about that here because it won't put a significant dent in your finances. The PRO annual plan has a starting price of $39 per month.
Even though it is packed with features, the price is very reasonable. This WordPress plugin costs only $199 and includes lifetime access as part of the package. This is an excellent option for freelance web designers and professional bloggers who constantly construct new websites and desire complete editorial control over the content they publish.
Conclusion
You don't need to do anything out of the ordinary in order to develop a page that says "coming soon." Installing a simple plugin is now the only thing left to do if you're working with WordPress. A coming soon website can keep your audience informed about significant announcements or new goods.