No matter what kind of website you have, you will probably want an author box. It's just the way things are. All sites, from game magazines to sites that review food and money, use an "author box."
The author box is just one of the numerous ways you can advertise yourself, your writers, and your webpage. The reason for this is so that users will go to the author's social media pages and maybe sign up to follow them there.

This will bring more people to your site because the blogger will be able to share and post all their new blog posts on Facebook. Then, when people click on those posts, they are sent to your site, which further keeps getting more visitors every day.
They can type about anything, from sports news to modern technology. Now the only thing left to decide is which plugin to install and use.
The answer remains simple as the plugin's name itself – Simple Author Box!
What is the Simple Author Box?
The Simple Author Box is a plugin for WordPress that gives you the ability to incorporate an author box at the bottom of your article that is fully responsive to any device.
One can integrate it It gives you access to all of the tools that you will require in order to develop author boxes, which will finally provide you access to all of the essential information on your writers.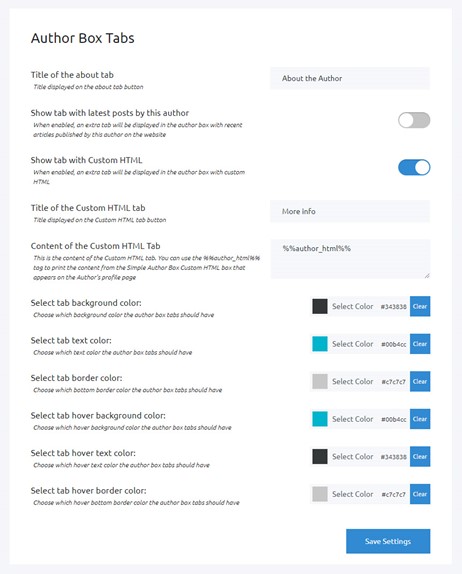 The most important thing to keep in mind is that Simple Author Box can be used in either the free or the PRO edition. The primary purpose of the Simple Author Box plugin is to facilitate the addition of an author box to your article, which is a chore that is easily accomplished by the plugin.
A few of the features include a responsive author box that can be customized, the display of the author's name, avatar, and selection; the ability to assign posts to guests as well as numerous writers; an abundance of customization options; link control; and support for various post types.

Free Version
I will make a short list of the things you can do with this plugin's free version. I'll say it again: you might assume that other plugins' free versions have more features, but the ones this plugin has are polished and work perfectly:
Show the author's Gravatar, name, website, decryption, and icons for social media.
Good-looking and workable on desktop, tablet, laptop, and mobile phones
Customizable features that allow you to match your theme's design
You can set it up so that the author box appears at the bottom of each of one's posts on its own.
You can also add the "author" box to your template file by hand
It also works with both RTL and AMP.
Pro Version
Now, let's talk about some of the things I've been saying are good about it. As I've already said, you need the pro version of this plugin if your site is built around writing articles and blogs. Here is a list of the most important things about the pro version:
You can add other people to any of the posts as co-authors.
Enable guest authors
You to choose where the author box goes (if you have one).
The color scheme can be changed.
When anyone hovers over your author's gravatar, you can make it spin.
Choose whether the name of the author should link to the author's website, page, or nothing.
The ability to open the link to the author's website in a new tab
There are a lot of extra effects for social networks.
Choose the font and size for the description fields of the author.
Top widget for the author
Simple widget for the author box
To conclude
To summarize, it is a wonderful plugin to have at your disposal and to experiment with. You merely require the additional degree of configurability that this incredible plugin is able to provide.
The "Simple Author Box" plugin is something that I am quite happy with, and I have noticed that it is used on other websites as well.
The fact that certain features are only accessible through the paid Pro version of this plugin irritates some users. Although that is somewhat understandable, this plugin is extremely well-kept, compatible, and polished to a high degree.
It is the best option to go with if the main focus and mainstay of your website are writing posts (articles and blogs).