Are you a web developer or marketing firm with several sites to handle but no time to do so? WP Reset is a solution that can help you with this issue. This article will cover how WP Reset can help you manage sites and keep them functional year-round. WP Reset has already been installed on over a million websites which only further builds its credibility. Let's get to the review.
WP Reset
WP Reset is the most popular WordPress plugin for resetting any WordPress site, with a huge number of active installations and a 5.0 rating. WP Reset restores the default installation values of your WordPress website's database without altering any files. It removes all modifications and content, as well as selected portions such as theme settings.
Because of the built-in snapshots that allow 1-click restore capabilities, WP Reset is quick and safe to use. It features various fail-safe techniques to ensure that data is never lost accidentally. WP Reset is a fantastic tool for plugins and theme creators. With its help testing and debugging will become easier than ever as it allows users to quickly reset settings and re-test code.
Reset Options Within WP Reset
Reset the site
This is the so-called "traditional" reset tool. When you choose this option, all of your data will be permanently wiped, including posts, pages, and comments. It goes without saying, but when choosing this option, make sure you have a backup of some form. With WP Reset, you can take a snapshot and proceed from there (but more on snapshots later.)

Nuclear Reset
This option will remove absolutely everything that comes its way. It deletes all of your personal data, as well as all integrations, uploaded media, and other items, much as the site reset option. The login and basic WP settings are the only things left. So, until you're very positive you need everything gone, don't mess with it.
Options Reset
This is the only option available that doesn't really destroy anything; instead, it reverts items to their default settings, as the name implies.
Selective Reset
Sometimes things aren't so bad that you don't need to reinstall everything. Only a few things could need a quick pick me up. You can use this option to reinstall a theme, change user roles, uninstall widgets or plugins, and so on. It's a bit more specific and used for smaller fixes.
WP Reset Dashboard
The WP Reset user dashboard is one of its best features. Many things can be done via the dashboard, like keeping track of your licenses (you can have numerous! ), assigning them to a domain, seeing any snapshots, and more.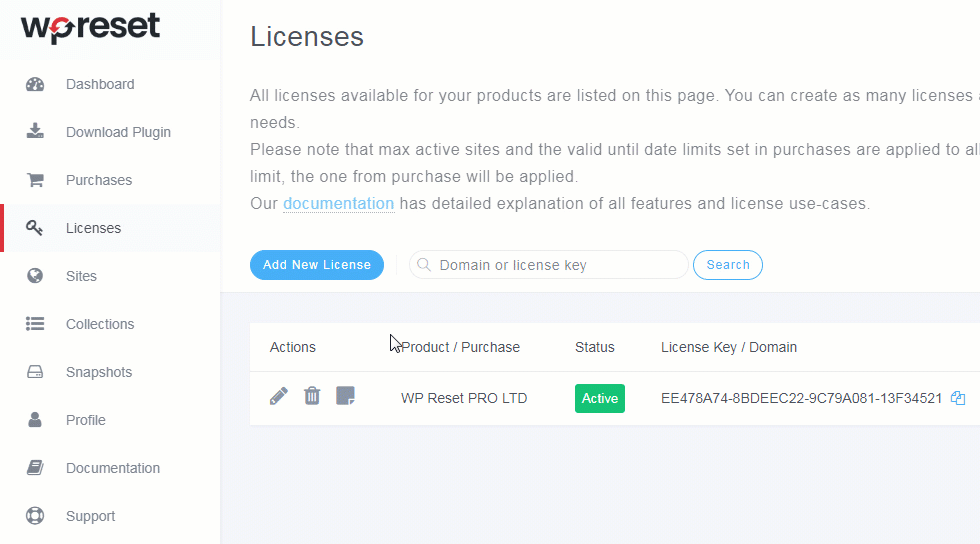 The dashboard also displays some basic information about your current plugin versions, such as the version and build number, as well as the licensing key you're using. If you're having issues using the plugin, the dashboard is a fantastic place to start because it includes the first step of troubleshooting, which is to check your license key.
Other Features
Snapshots
Let's say you're changing some themes and plugins on your live website, and something goes wrong, and you don't have any prior backups. So, how do you undo the upgrade? Well, if you have WP Reset installed, you can do it really quickly. Before you make major changes to your site, take a snapshot of your current installation and simply restore it if anything goes wrong.

Bulk Plugin Installation
Every time you install WordPress to create a brand new website for yourself or a client, you'll have to install all of your favorite plugins and themes like Elementor, WP Rocket, WP Sticky, Yoast SEO, and so on. You'll have to upload, install, and activate each one, which will take you about 60 minutes of your valuable time. The WP Reset plugin, on the other hand, allows you to install all of your favorite plugins at once.
Emergency Recovery Script
If something goes wrong and you can't log in to your website, the best thing to do is use the Emergency Recovery Script, which you can go to right from the dashboard with WP Reset PRO. To get the script up and running, go to "Support" and select "Emergency Recovery Script." The plugin will install it for you, and all you have to do now is click the link to acquire the password you'll need to access it.

Cleaning Tools
Nobody, including us, enjoys a cluttered website, yet clearing up data left by a theme or a plugin demo could take hours. WP Reset has a variety of colorful tools that will eliminate all of the garbage with a single click while leaving the data you require intact.
Final Thoughts
WP Reset is clearly on top of the game when it comes to the most difficult task in web maintenance. It not only has unique features like collecting, automated snapshots, and a single dashboard, but it also simplifies resetting and even allows for segmented resetting.
There aren't many plugins that can do that. It's unquestionably a product worth investing in, and you can always start with the free version to see what the PRO version can do for you.