Do you know what a post redirect is? If you're reading this, there's a good chance you have and are now trying to figure out how to put it into practice effectively. But first, let's go through the fundamentals. A redirect is a simple way for your site to alert your visitors' browsers that the material they're looking for has been relocated, either permanently or temporarily, and to send them to the new URL or merely notify them of the transfer.
It's similar to when you move. You have to update your address and make sure that everyone is aware of it in order to get mail, deliveries, and other items at the correct address. WP redirects function in a similar way.
When should a redirect be used?
There are a plethora of reasons why you would want to use a redirect on your page.
Common uses:
A certain page's URL has changed.
A page is no longer relevant.
You're making the move from HTTP to HTTPS.
You've relocated content or removed it.
The domain name is being updated.
There are, of course, various reasons why you might need to use a redirect. These are just a few of the most popular reasons why website owners choose to choose a plugin of a similar sort.
WP 301 Redirects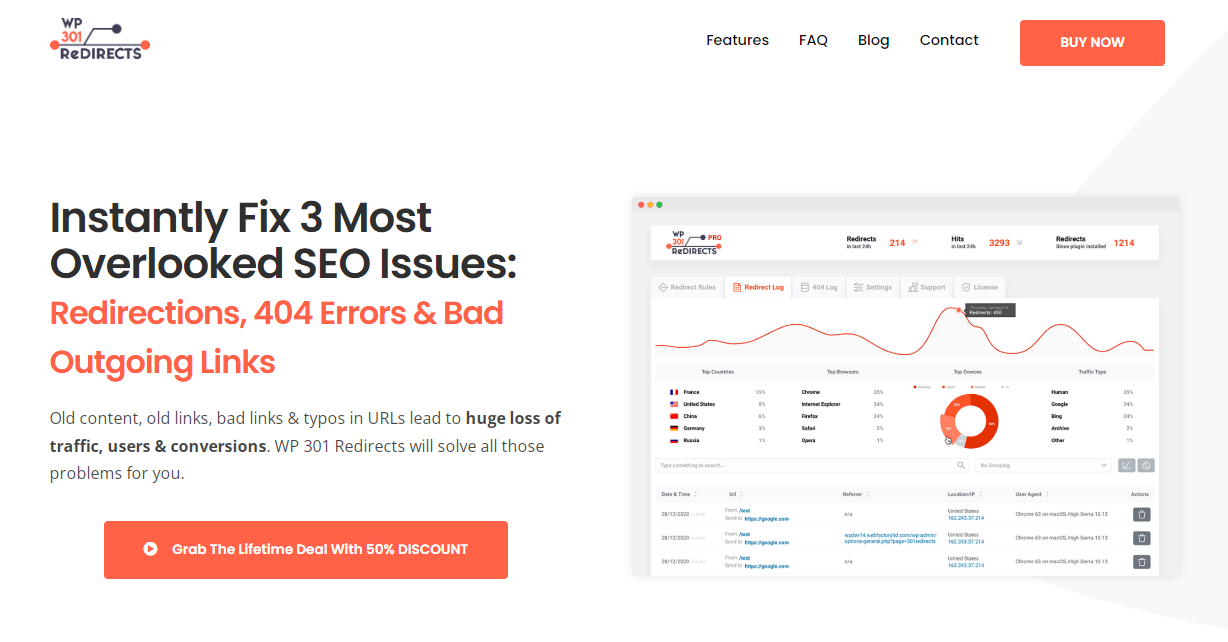 WP 301 Redirects is a popular premium redirection plugin for WordPress. Its major purpose is to save you from losing visitors due to broken links, incorrect URLs, or server changes. This can help you with SEO since users will know where to access your pages rather than getting another unpleasant 404 error. And, let's face it, if you're interested in what a site has to offer but get a 404, you're unlikely to return.
This is why every site that values quality and a positive user experience should utilize a redirection plugin, and WP 301 Redirect appears to be one of the most thorough. So, let us tell you what it can do.
Redirection
Automatic Redirects
This is self-explanatory. However, you can use this plugin to automatically redirect visitors to the correct location. No matter how experienced you are, mistakes that result in a 404 error can always happen. However, thanks to this plugin, such issues can be automatically corrected.

Let's imagine someone is looking for a specific article on your site, but the URL is misspelled. This plugin can direct them to the correct one straight away, with no problems along the way. You can also decide how sensitive it is to typos and adjust the settings to guarantee that everyone lands on the correct page.
Manual Redirects
You can manually set up redirects in situations that are a bit more nuanced or complicated. Simply find what you want to redirect, enter the new destination URL, and WP 301 will take care of the rest. Rebuilding a website is usually a nightmare that takes a long time and a lot of effort, but this plugin can make it less of a hassle.
Link Management
Cleaning up links
Affiliate links are often ugly and, more often than not, too lengthy, which can prove to be a major roadblock to increasing traffic. It doesn't have to be that way, though. You can clean up all of your affiliate links with WP 301 Redirects and really help yourself bring more traffic to your site.
Links Scanner
While many of the features we've described so far are useful and even improve on your standard redirection plugin, we'd want to give some attention to the Link Scanner. The link scanner will scan all of your sites and links and provide a full analysis of the ones that are troublesome.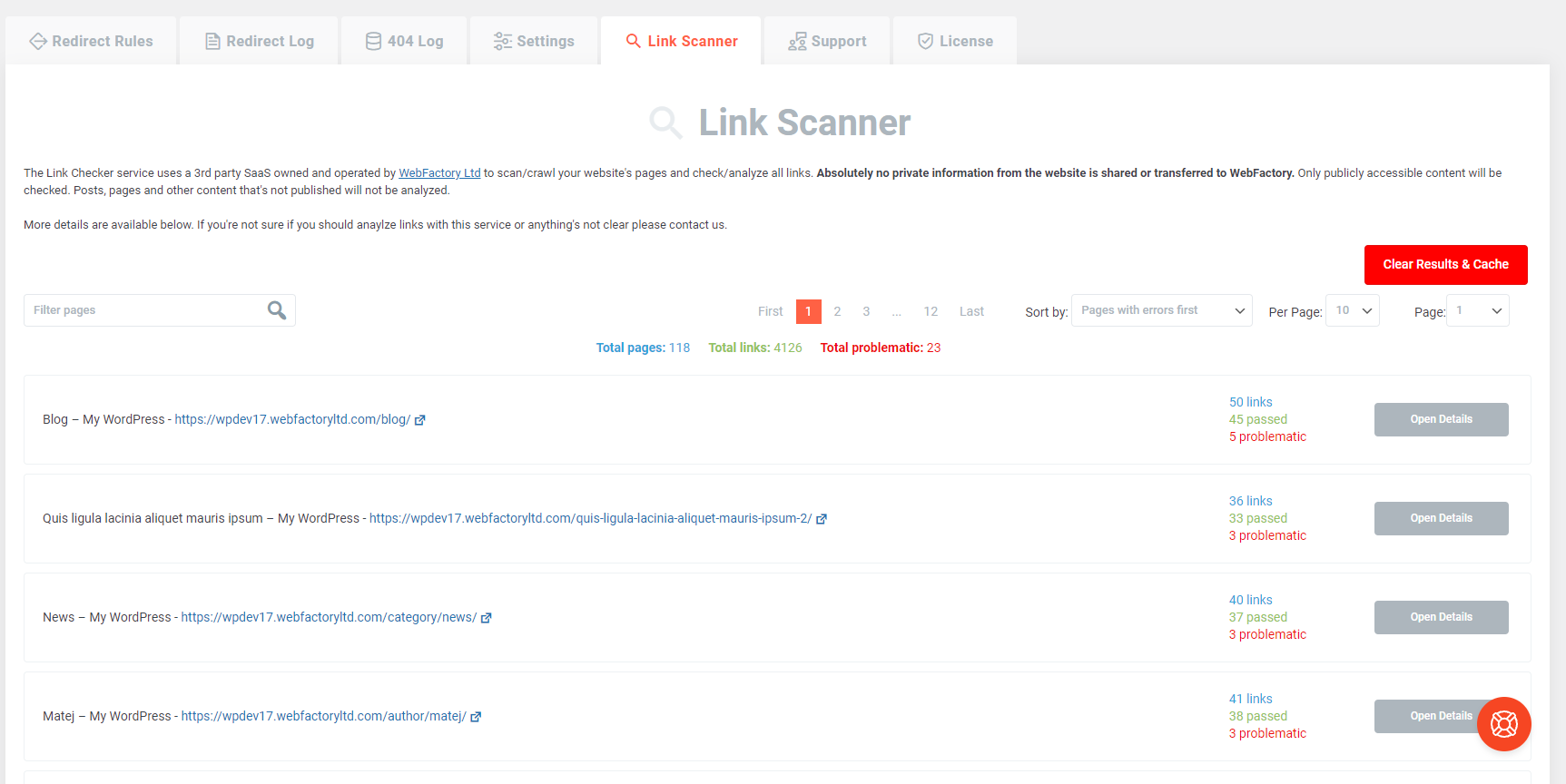 It will only take a few minutes to scan the entire site, and you can do anything you want while the scan is running in the background. After you've finished, you'll get a detailed summary of each page, including how many links it has, as well as how many of them passed the test and how many proved to be bad. Once you get the results, simply choose how to handle the link, redirect it, delete it, or move it.
Other Features
Full rebranding – You'll be able to completely rebrand this plugin without any code. Starting with the logo, company name, plugin name, and all contact information make sure everything matches your brand.
PDF Reports – If your customer wishes to be kept up to speed on what's going on, you can create branded PDF reports and email them to them directly. This will highlight all of the time and effort you've put into their websites.
Support – You'll be happy to know that if you have any problems with the plugin, you'll be able to get support from the people who created it.
Final Thought
WP 3O1 Redirects is a top-notch redirection plugin that comes with all the bells and whistles. So, if you're in need of a redirection tool, this is a fantastic option.