WooCommerce is a plugin for the WordPress content management system that facilitates the creation of an online store. When opposed to using marketplaces like Amazon, eBay, or Etsy to sell your wares, the independence that WooCommerce provides is a major selling point. It's an open-source platform that puts you in control of hosting your own website and gives you a wide range of options for how it looks and functions as an online store.
An essential component of any successful online store is a shipping plugin. Using a shipping plugin, you may export your WooCommerce store's data to a spreadsheet like Excel or a text file like CSV for easy editing and storage. It allows you to expand the capabilities of your online store and add new shipping options like logistical assistance and tracking to improve the speed and efficiency of your deliveries.
Here are a few of the top WooCommerce shipping plugins of 2022 that you should seriously consider installing.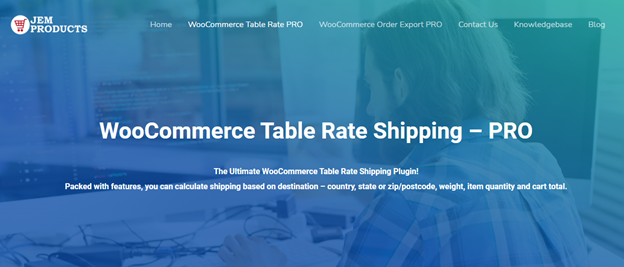 If you run a WooCommerce store and want to offer shipping at different rates based on various factors, you can do so with the help of a free and highly flexible plugin called Table Rate Shipping. The table can be set up in a variety of ways to reflect various shipping considerations, including total cost and shipment weight.
Shipping settings in WooCommerce can be customized to your preferences. The flexibility to add or remove VAT and the ability to set up numerous tiers round out Table Rate Shipping's list of notable features. You can customize the shipping costs for each order, give each shipping option a name of your own, and determine the total costs based on the delivery address.
2. Flat Rate Shipping
In a few simple clicks, you can set up a wide variety of different flat-rate shipping options based on factors like product, country, cart-subtotal, quantity, category, product tag, and user-based shipping method with this highly adaptable and user-friendly shipping plugin.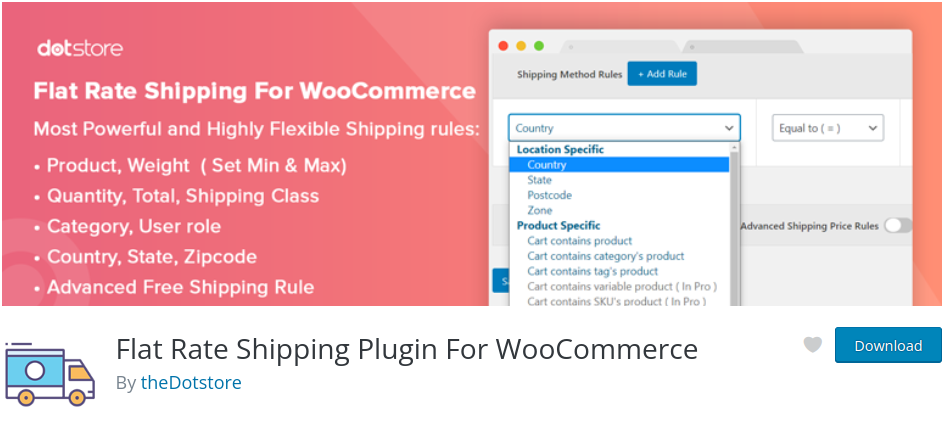 This is an excellent method for controlling and minimizing transport expenses.
In the real world, offering more shipping choices increases sales, improves user satisfaction, and reduces cart abandonment.
3. Flexible Shipping
The WooCommerce Flexible Shipping plugin is a high-end add-on. Rates for shipping items can be determined based on their weight and the total in the shopping basket. This plugin gives you access to an infinite number of shipping options and rules for determining delivery costs.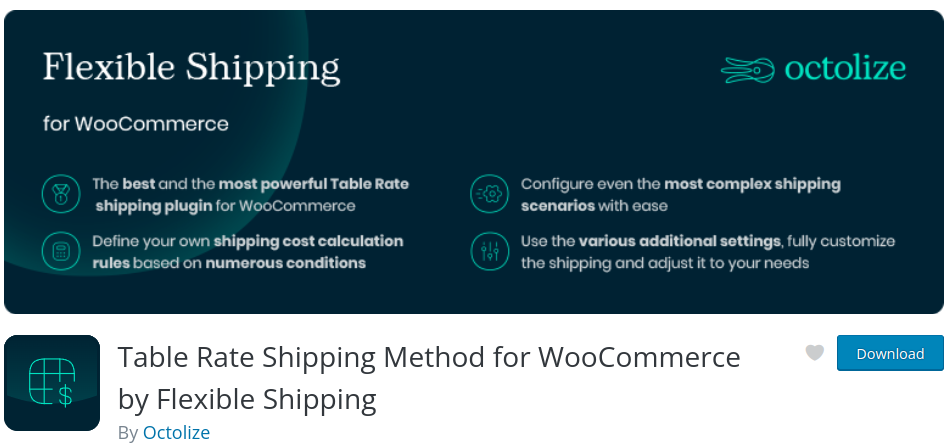 You can customize the minimum and maximum values for basket total and weight, as well as additional explanations and names to shipping methods. The time and effort required to follow multiple sets of rules can be added together. You can even restrict access to particular shipping options so that only logged-in users see them.
It contains settings for automatic notifications and cart calculations, as well as compatibility with a wide variety of shipping firms and ready-to-use scenarios. Many useful functions and first-rate support are included in the Flexible Shipping plugin.
4. ELEX Hide WooCommerce Shipping Methods
You can restrict customers' access to particular shipping options with the use of the ELEX Hide WooCommerce Shipping Methods plugin. Both the system's default shipping options and those of third-party vendors, such as DHL, USPS, UPS, FedEx, etc., can be hidden. Whenever free shipping or in-store pickup is an option, it will make all other shipping options invisible.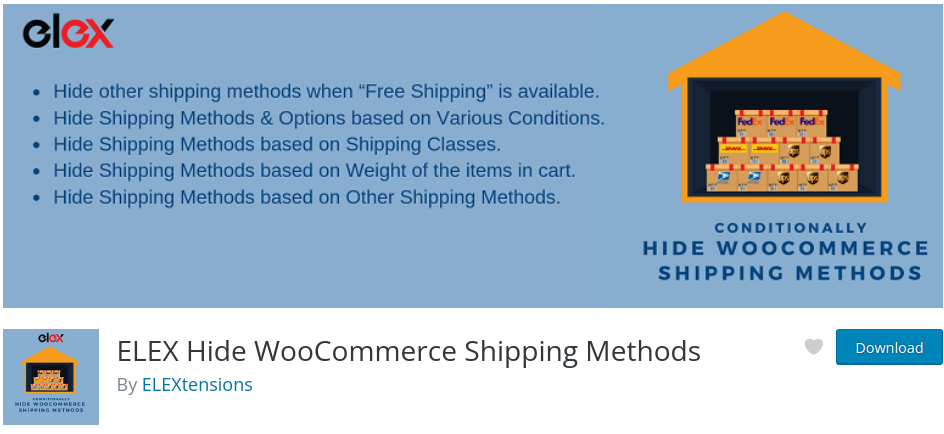 Additionally, you can specify the criteria under which shipping methods and alternatives are hidden, and you can change the filters to do this. The user-friendly ELEX Hide WooCommerce Shipping Methods plugin allows you to easily build and manage an infinite number of rules.
5. Innozilla Table Rate Shipping for WooCommerce
Another add-on that lets you set different shipping prices depending on things like weight, price, and/or quantity. You may easily define and set rules based on the number, weight, class, objectives, calculation type, shipment label, and more.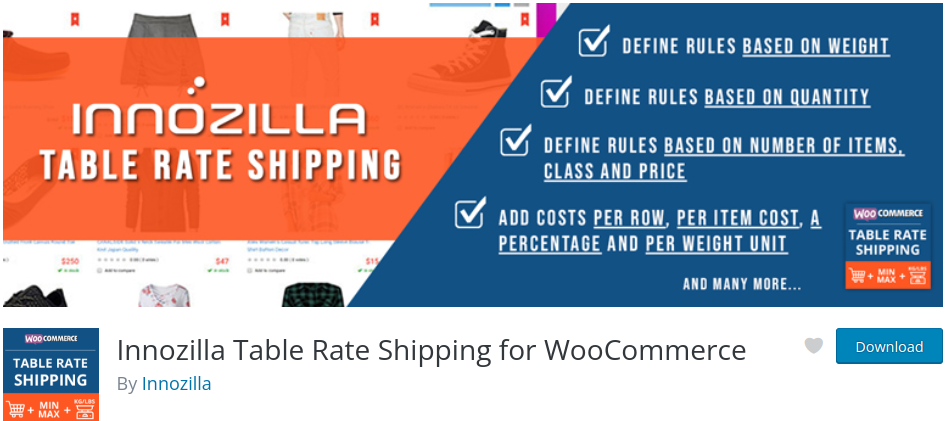 This plugin allows for the creation and application of several rules and conditions. Any special shipping considerations your products may have can be accommodated by simply adding the rule.
Conclusion
Your company's size and shipping requirements are the only things that should guide your decision on a shipping plugin for WooCommerce. Despite the fact that the aforementioned plugins are all worthy options for helping you manage your shipments, we advise going with Table Rate Shipping. More than 20,000 satisfied customers attest to its versatility, ease of use, and compatibility with other plugins and themes, making it ideal for your business.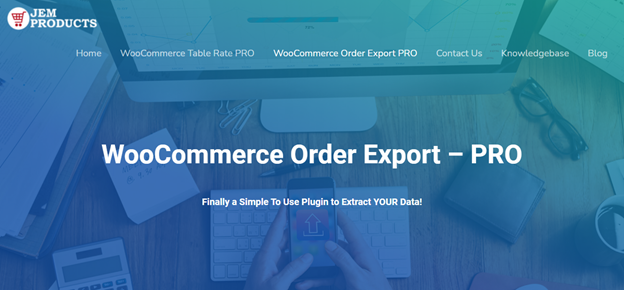 Furthermore, WooCommerce Order Export is a great option if you require a service that will fully document your export and transport information. All of your WooCommerce data can be exported with a single click, and it's been tested with both Windows and Mac. It has a drag-and-drop tool for rearranging the columns and filters to help you get the precise results you need. Finally, make use of all of these options and start offering your clients a better shipping experience right away.