A customer relationship management (CRM) system for real estate is a system that helps manage all conversations with prospects and clients. The finest real estate CRM will be industry-specific, including features such as email and text messaging, lead follow-up tools, and click-to-call capabilities. . CRM solutions are becoming increasingly vital to real estate agents' everyday work and the performance of their brokerages.
There are several CRM solutions available to organizations today, and many of them might be adjusted to meet the needs of real estate agents, even if they were not designed expressly for the sector. However, there are capabilities in certain CRMs that make the CRM more useful for agents. Today, we've compiled a list of our top CRM solutions for real estate brokers, all of which are tailored to their unique requirements.
1. Follow Up Boss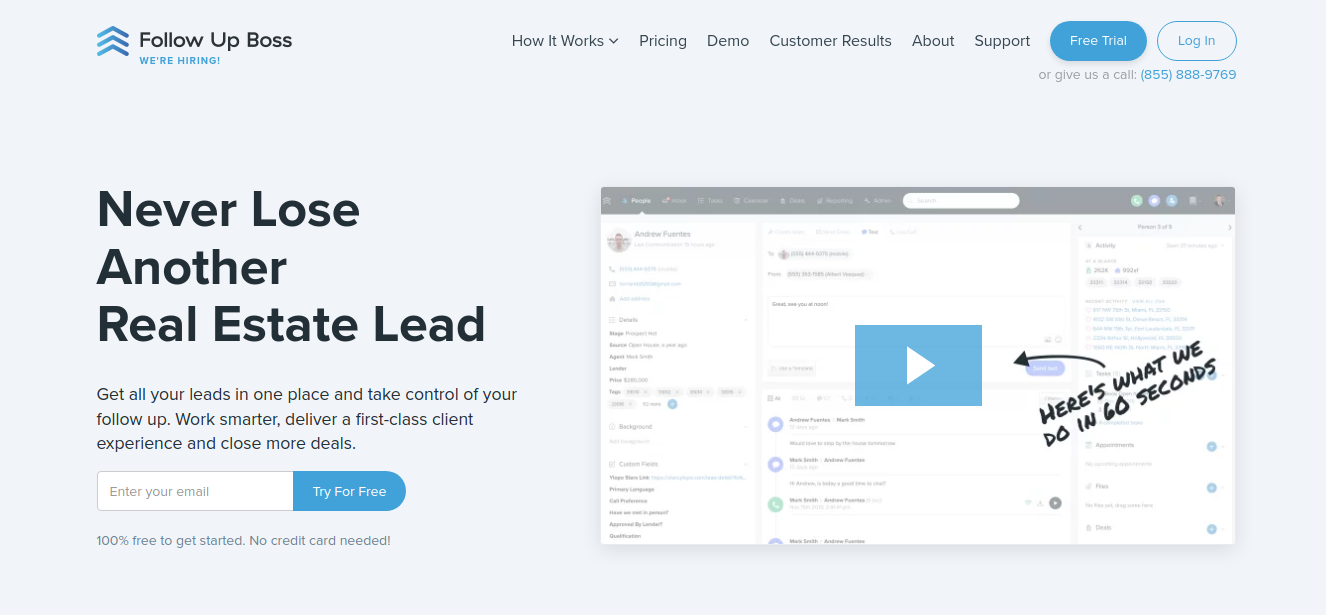 Follow Up Boss is a popular CRM solution in the real estate sector and has been a market leader for many years. Follow Up Boss is an excellent choice for anyone with the technical skills to build up integrations and make adjustments on their own. If you don't anticipate need a lot of customer support assistance, you should give it a shot.
Follow Up Boss has the following characteristics:
A smooth user experience
Strong marketing tools with built-in messaging, emailing and calling capabilities
A plethora of built-in integration possibilities
Unlimited leads and contacts, follow-up automation, drip and bulk emailing
Starting price is 69 dollars a month and the free trial lasts for 14 days.
2. CRM by SendPulse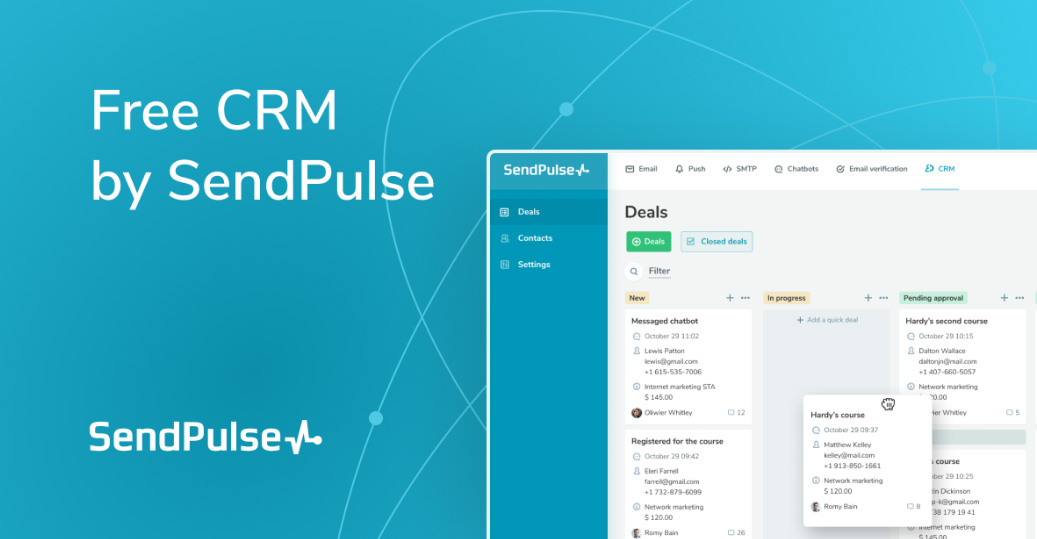 CRM by SendPulse is so much more than just a CRM in itself. Since SendPulse is a marketing automation platform, you don't have to worry about integrating your CRM with third-party email or SMS software. With SendPulse you can manage your customer data and deals, connect with your clients via a preferred communication channel (email, chatbots, SMS), or use additional marketing tools like landing page builder or email verifier. 
Features and highlights: 
Create a custom pipeline—suitable for real estate business.  

Choose the communication channel your clients prefer—Email, SMS, chatbots for Facebook Messenger, Instagram, and WhatsApp. 

CRM tool is free, paid plans for email campaigns start at $7 per month.
3. Wise Agent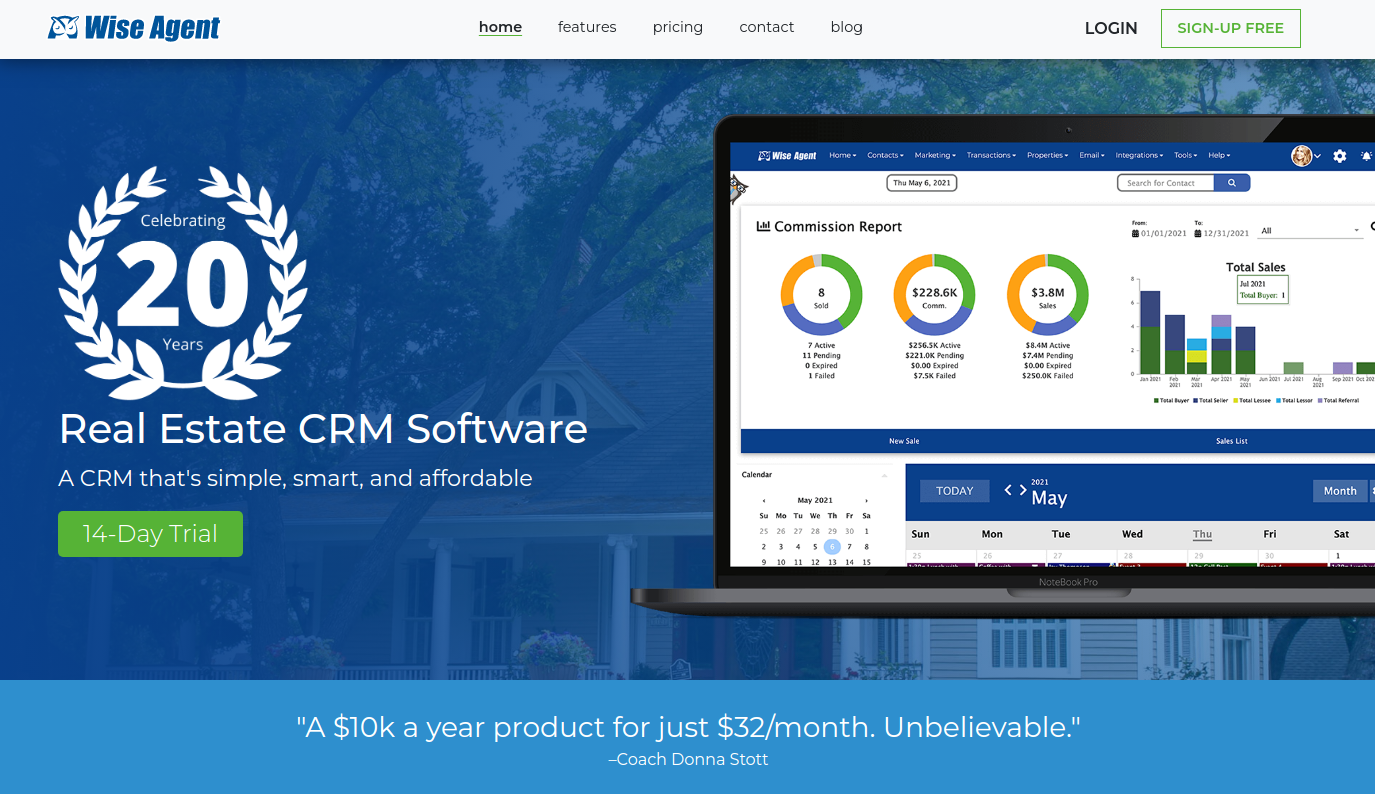 Wise Agent is an excellent all-around CRM for real estate agents, with many capabilities you'd anticipate, such as automatic emails and SMS texting. Wise Agent also provides several integration options to help you streamline your communication and lead generating services.
Some characteristics are:
A/B testing, email autoresponders
Excellent value for money
Texting SMS right from the app
Starting price is 24.92 dollars a month and the free trial lasts for 14 days.
4. Top Producer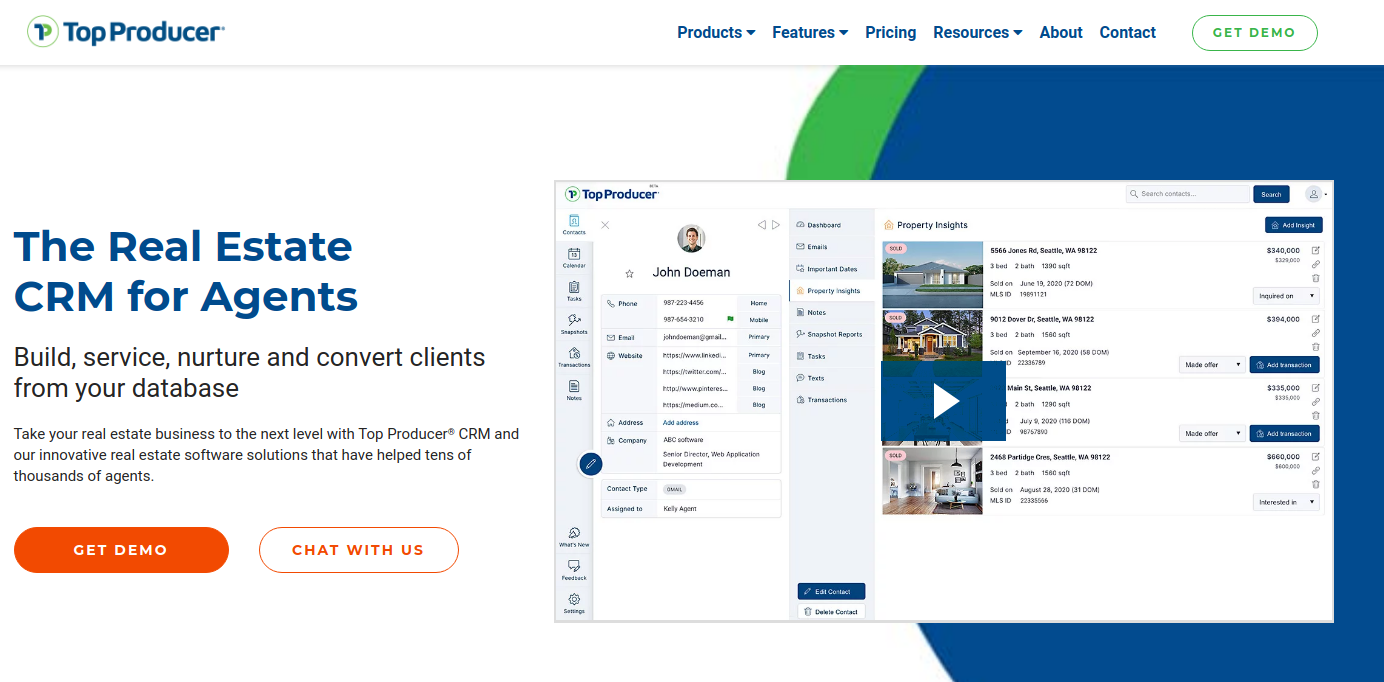 Top Producer has long been an industry leader, and it has kept up with industry changes by including new features and improving on its existing product. This CRM includes a variety of built-in integration possibilities and powerful features to help your automation reach new heights. Overall, Top Producer is a good option, although it isn't the cheapest CRM on our list.
Highlights:
There are several built-in connections and transaction management solutions.
Email automation may be linked to your MLS
Excellent tools for lead management
Starting price is 54 dollars.
5. LionDesk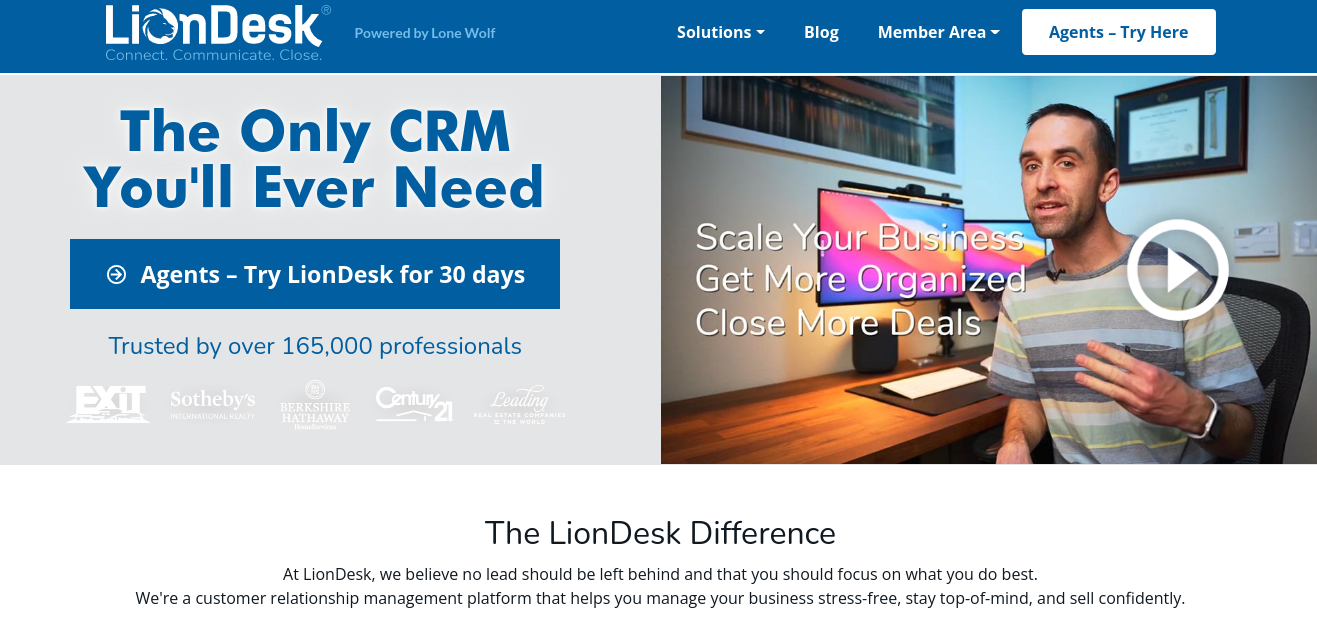 LionDesk is an industry leader since it includes the majority of features that any real estate agent would want. You may personalize almost every field in your pipeline management using the CRM, which includes sophisticated messaging options and click-to-call. LionDesk also provides an AI-powered lead follow-up solution that can automate messaging and expedite new sales.
Features
AI-powered lead assistant, bulk messaging, and fields that can be customized
Starting Price $21 per month, billed annually, free trial 30 days.
6. Realvolve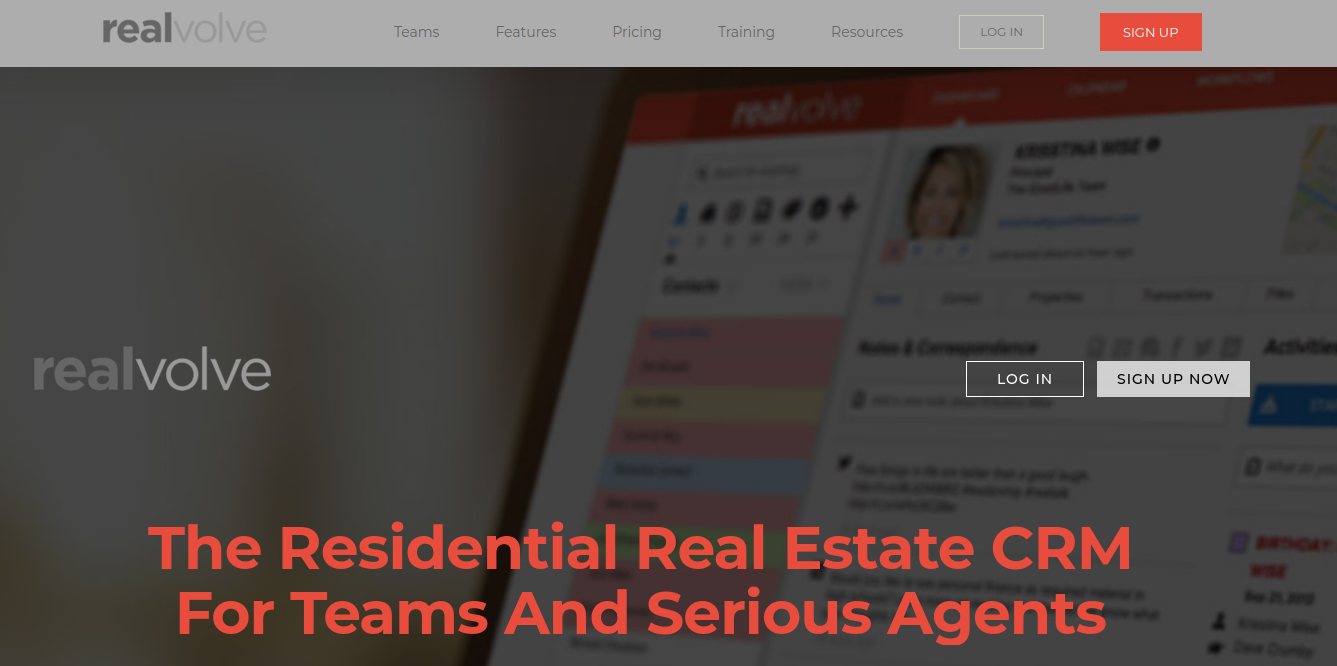 Realvolve is an excellent CRM solution with many useful features for real estate brokers. It goes a step further by providing configurable processes to help you set your workplace and communications precisely how you want them. In addition, if you're not sure how to get started, Realvolve has put up a collection of templates to get you started on anything from workflows to how you should contact prospects.
Processes, configurable dashboards, and a library of templates for workflows and campaigns are among the highlights.
Starting Price $74 per month, billed annually, free trial 14 days.
Conclusion
We evaluated all of the variables that make a real estate agent's demands distinct and crucial while selecting the finest CRM for real estate agents. We considered everything from cost and simplicity of use to unique real estate sector features.
These are some of the best CRM for Real Estate Agencies and we hope you will find the right one for your work among them.