With the always-changing situation in the business world, remote interviews became an important part of it. Probably one of the biggest advantages of online interviews is that they take place in a space of your choice where you have complete control over formal circumstances in companies. Also, you have the possibility to be more flexible in terms of defining terms.
Prepare additional applications that can communicate through the camera, in case of disconnection or inability to connect. Applications like Whatsapp and Viber are certainly not the first choice when arranging meetings or online interviews. Here are 6 tools that will help you interview someone remotely.
1. Rumble Studio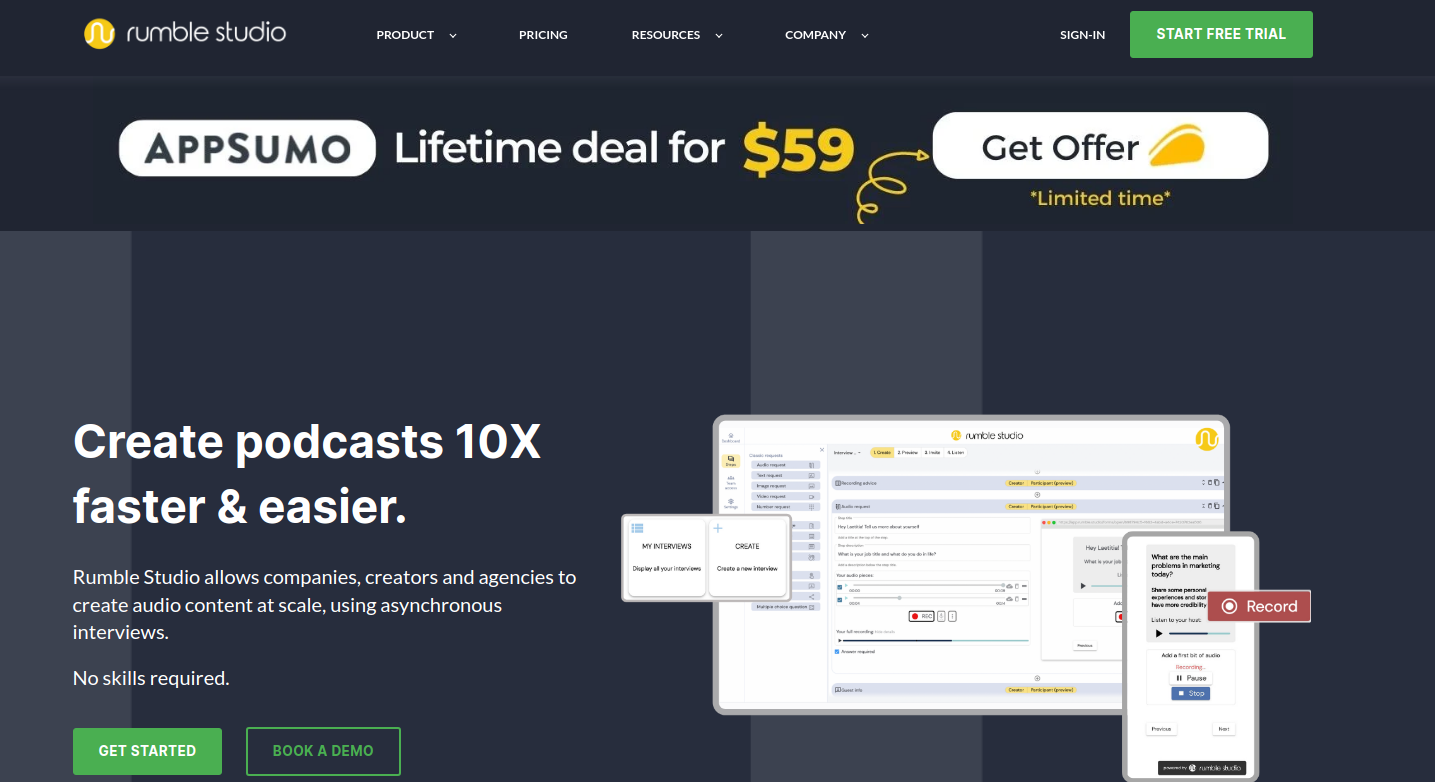 Asynchronous interview preparation and recording are made simple via Rumble Studio. This is one of the best tools to set remote interviews you can find right now. To ask questions and gather answers in various formats, you can create an interview landing page using Rumble Studio. The great part about this plugin is that it doesn't require any coding knowledge.
Use one of the interview templates provided by the platform to get started if you've never conducted a remote interview before. You can also enter your unique questions using this tool, either as text or voice. Your interviewees can respond to questions by recording or uploading their voice, selecting the correct answer from a list of options, or sending in text, photos, or videos through the interview link.
2. Podcastle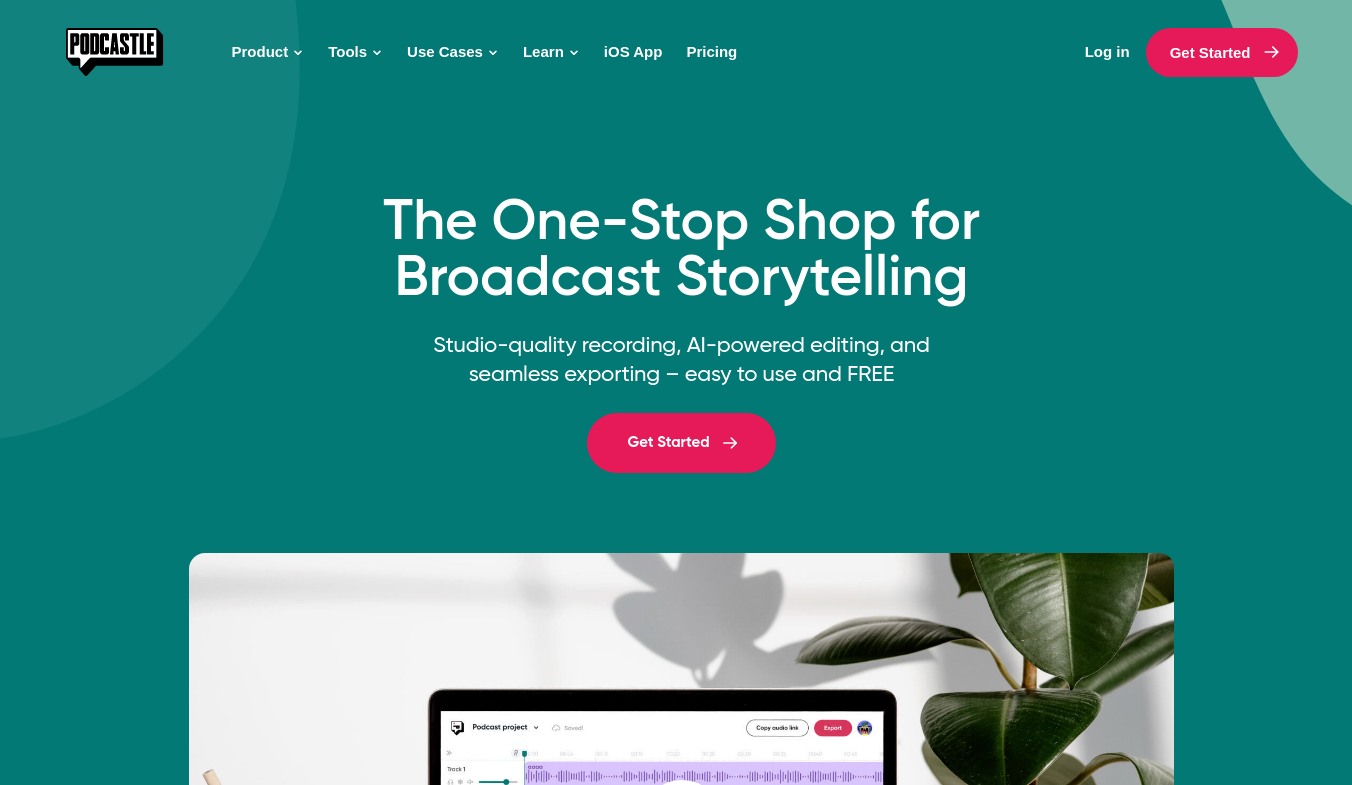 On a browser platform, you may produce recordings of great audio and video quality using Podcastle. With a few easy clicks, multi-track editing and audio enhancement are possible. Instantaneous lossless downloads for a smooth launch of your show. With ease, conduct solo and group recordings ease without using expensive equipment. You can record a remote interview with studio-quality audio. This tool is beginner friendly. You'll be able to set up everything with just a few clicks.
3. Riverside.fm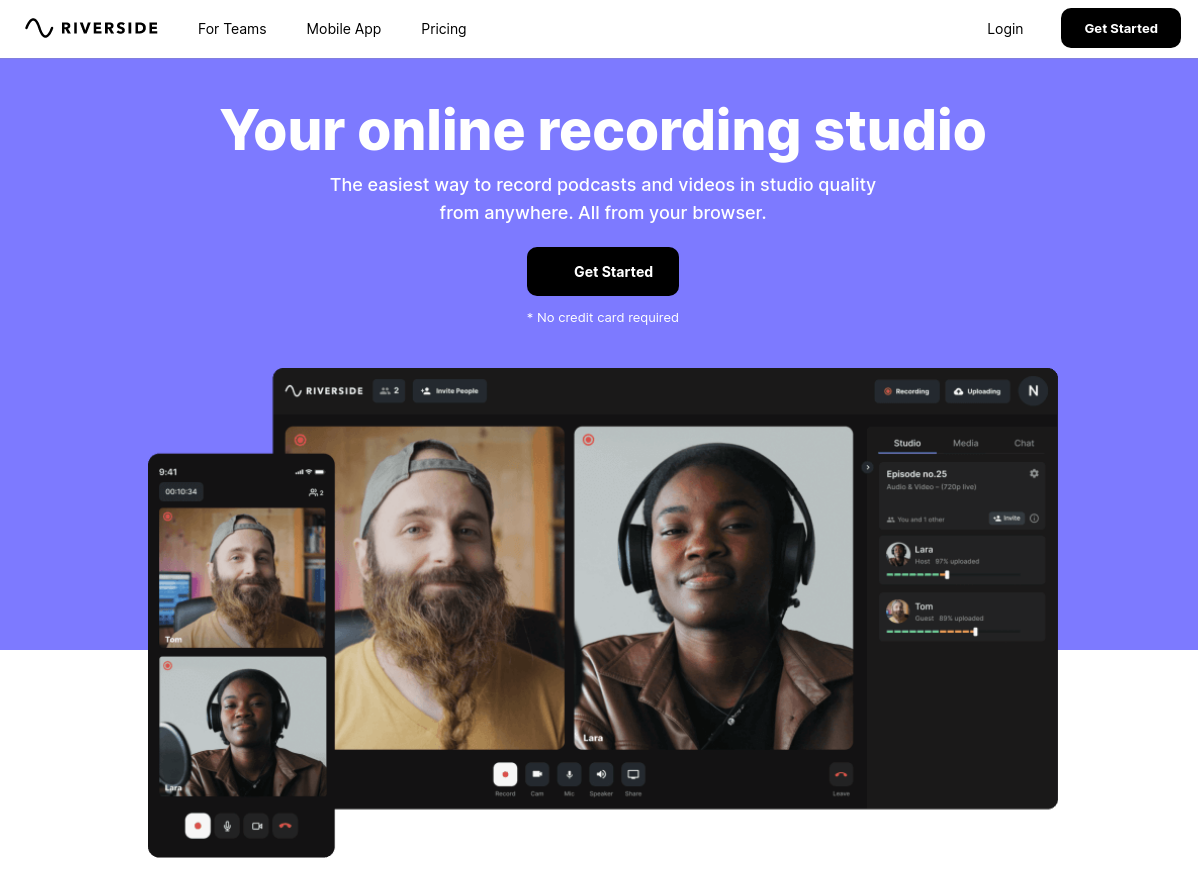 Riverside.fm enables businesses and content producers to remotely record studio-quality audio and video. In some ways, Zoom, Microsoft Teams, and Google Meet are comparable to this tool. When a person is invited into a stream or call that has been set up by a user and recorded, the person is in the environment to take an interview. But Riverside.fm differs from those other programs due to its elevated component.
One of the great features of this tool is the multi-track audio and video recording. You can get isolated tracks for each speaker. Because of the high-quality recording, it is an amazing tool to use while doing a remote interview.
4. VideoAsk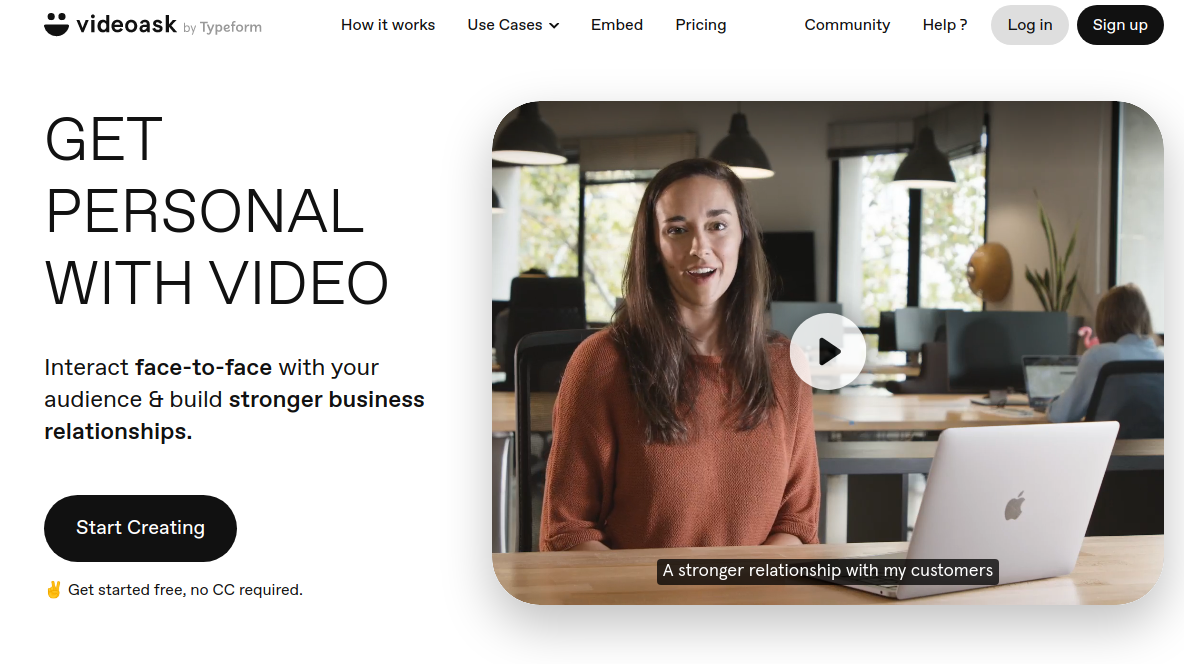 VideoAsk is another great platform to do remote interviews. From their preferred device, users can access the VideoAsk and respond to it using audio, video, or text (as well as other choices like multiple-choice or calendar selection). In case you want to view vide and video responses later all of the responses are preserved in your VideoAsk account. Here is a detailed tutorial on creating a VideoAsk. Use the "All interactions" feed to view all activities across your organization and follow responses to numerous VideoAsks. You can view replies to a given VideoAsk, its findings, metrics, and other options like labeling and sharing interactions in the VideoAsk inbox.
5. Zoom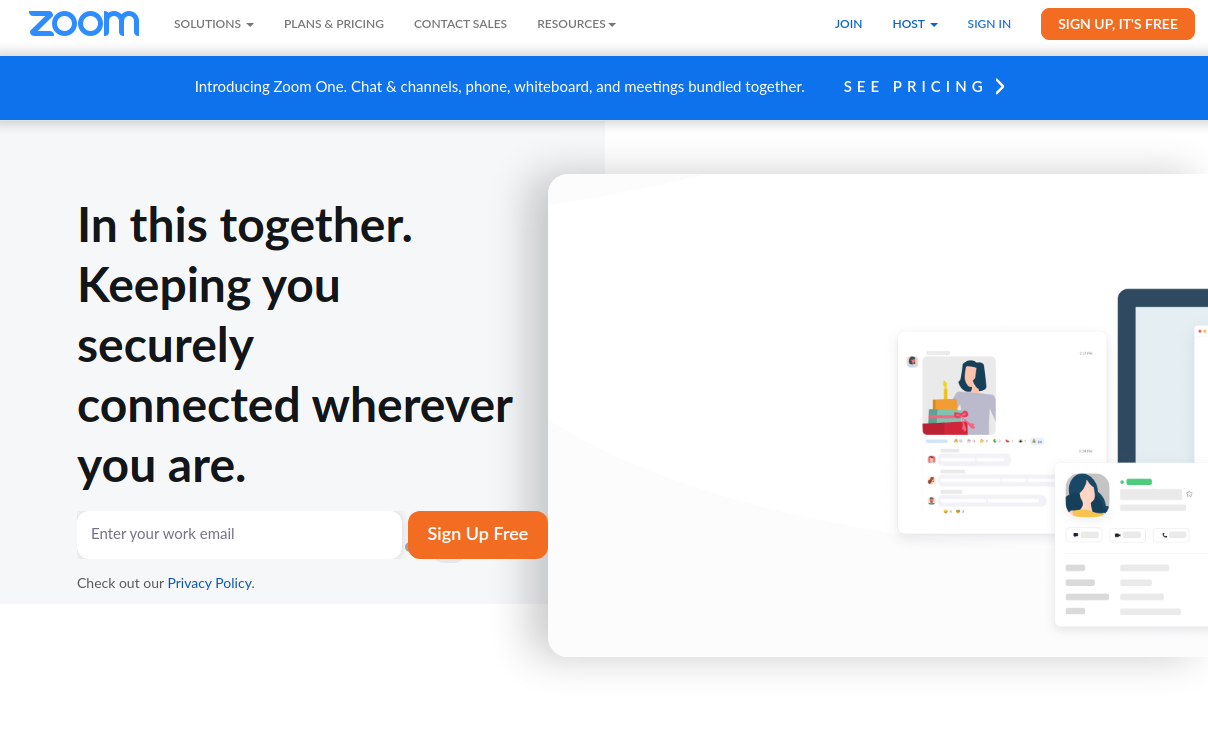 Zoom Video Communications is a company that owns one of the most popular applications in the world. It is a program that is easy to use. It enables virtual meetings and conferences. Companies around the world have canceled live interviews. Interviews are held via Zoom, which means that hundreds of thousands of jobs are currently using this platform every day, and they should be joined by millions of people who work from home today.
Although many applications enable video calls, it is Zoom that has recorded great popularity, and this is because it enables conferences of up to 1,000 people, which can be used by both small companies and large corporations, and greatly facilitates online meetings.
6. Slack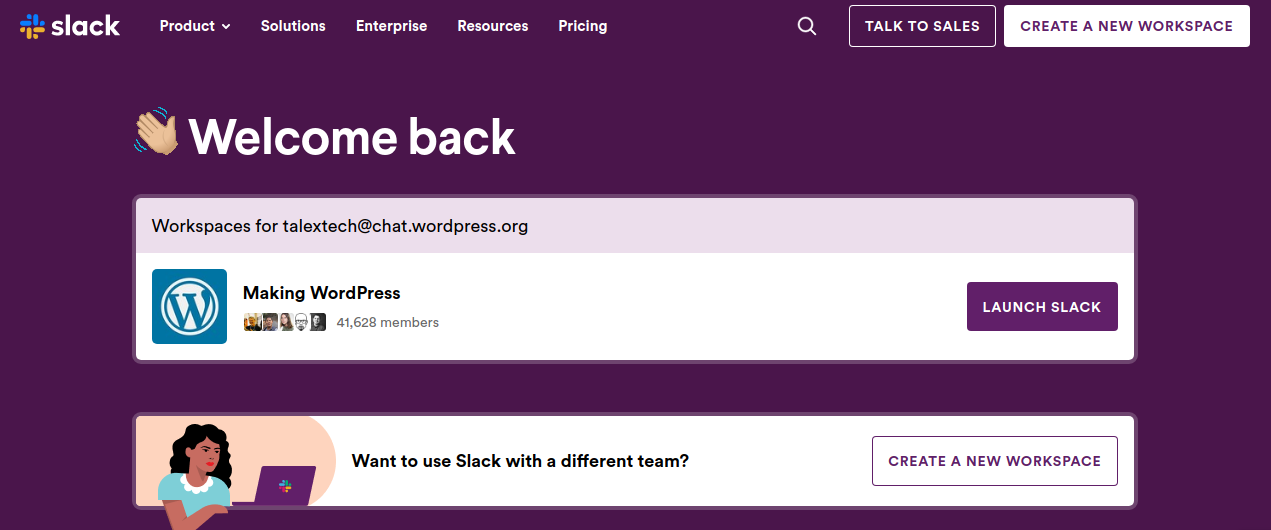 You've probably heard of Slack, the team communication tool if you work for a big organization. However, Slack also offers the option to place audio and video calls. If your company utilizes the free version of Slack, you can only have one-on-one direct calls with other users.
However, if your company has a subscription, you can have up to 15 individuals participate in a video conference. You can conduct a remote interview as well. Slack is easy to use and can help you set multiple interviews in one day.
Remote interviews become popular in today's business world. With so many different online interview tools you can easily set up an interview. This approach is popular because it saves a lot of time for both employers and employees. Among the tools mentioned in this article, Rumble Studio stands out with its amazing features.